Master Gardener Training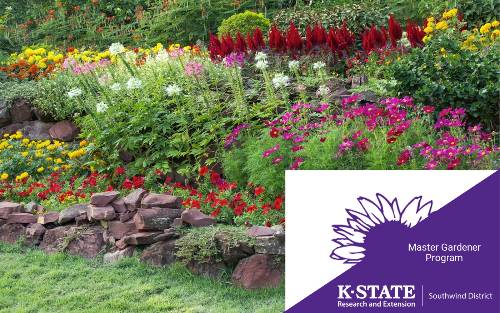 Are you passionate about gardening? How about a passion for giving back to your community? Why not combine those passions and help us engage our communities with horticulture education and outreach. You can use your unique skills and abilities to promote and share horticulture with all those around us.
Extension Master Gardeners are a vital part of K-State Research and Extension. Donating time in return for horticultural training, Master Gardeners help our county agents meet the need for horticultural information in their communities. The means of providing this information are diverse including community projects, demonstration gardens, working garden shows, public presentations, and providing tours.
Any Kansas citizen with a passion for gardening, life-long learning, and community education can apply for the Master Gardener program.
Sessions will be held weekly beginning in September on Thursday afternoons in our Iola office. Some sessions will be offered online via Zoom. The training schedule can be found here. Applications are due August 10, 2022; the registration fee is $125.
To apply, fill out this form and return it with your registration fee to the Erie office.
If you have any questions, call Krista Harding at the Erie office: 620-244-3826, or email her: kharding@ksu.edu
Lawn and Garden
Horticulture is the science and art of growing fruits, vegetables, flowers, ornamental plants, and trees.
Maintaining attractive home and commercial landscapes not only increases property values but promotes an improved quality of life that makes our community a great place to live.
Whether you have a question about lawns, vegetables, flowers, or landscape maintenance, Extension information is created for use by everyone, including homeowners, lawn services and nurseries.
Are you familiar with the Kansas Garden Guide? This book, published by K-State Research and Extension, is a gardeners "must have". Watch the video below as Krista Harding explains why you need a copy.
Have you checked out the K-State Garden Hour? At noon, on the first Wednesday of each month, horticulture agents from across the state will offer training on a variety of topics to help you grow more produce, have a beautifully landscaped yard, get rid of pests, see new flower varieties, and more! A one-time registration gets you access to all of the sessions, and the videos in case you miss one. You can register here. Below is a list of upcoming sessions:
March 2 - Landscape Design 101
April 6 - Pollinator Plans for Continuous Food Sources
May 4 - New and Improved Annual Flower Varieties
June 1 - Organic Pest Management for Vegetable Gardens
July 6 - Growing Culinary Mushrooms at Home
Aug. 3 - Landscaping for Wildlife
Sept. 7 - Recommended Trees for Kansas
Oct. 5 - Improving Soil Health in the Landscape and Garden
Nov. 2 - Wildlife Damage Prevention and Control in the Lawn and Garden
Dec. 7 - Accessible Gardening for All